Call now before season gets going. See Internet Special $10.00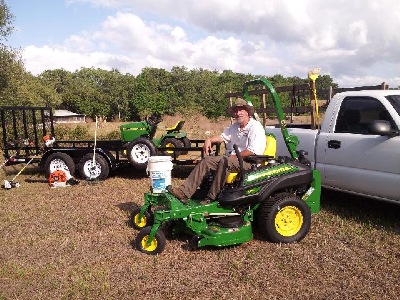 The emphasis of our site is on [Lawn mowing, edging, blowing, trimming, yard clean up and tree trimming and pruning from the ground. Mulching top soil planting, bush hogging].

You can reach me at [352-617-5111]. I'm looking forward to hearing from you. You can also contact me at my e-mail address: [http://mark@floridamowingandmore.com]. Leave me your phone #, or E-mail, Property address and work you want done and I will get back to ASAP..

In brief, you should know the following about me; company; I use only the best equipment John Deere mowers, Stihl, Echo, Big Tex trailer and GMC truck, was established in [2013] and had been responsible for providing outstanding [Lawn care & yard clean up] ever since. My specialty is in the area [Lawn mowing, edging, blowing and best for last yard trimming]. I Emphasize trimming because it the number one competitor complaint I hear, this is where I spend my best time. My business is located in [Central Leesburg Florida].

[GENERAL INSURANCE & LICENSED]

I'm fully insured $1,000,000 per, through Travelers Ins. Company. Licensed in Lake and Sumter county,Rest assured that you property will be treated as my own. Don't take anybody word they are covered. When they have a accident on your property and they look to you for help. No need to take risk any more.